Xiaomi Mi Watch Global Version
Werkdag voor 20:00 besteld -> volgende dag in huis
Pick up at 3000+ PostNL pickup points.
Lowest price guarantee
Above 75 euros no shipping costs
2 years warranty
Personalized customer service
Information
Xiaomi Mi Watch
The Xiaomi Mi Watch is the first smartwatch from Xiaomi to focus entirely on the European market - and with success! The watch maintains a classic look and is packed with new features that help you take care of your health and helps you get better at sports.
You can't look at this smartwatch and not immediately fall in love! The spectacular design of the Xiaomi Mi Watch has a slim round body and 3D glass that is very subtle. The quality of the materials used makes it a very resident watch, without compromising the lightness and comfort on your wrist. The Xiaomi Mi Watch weighs just 32 grams.
Even when the watch is off it looks fascinating. This is thanks to the curved Gorilla Glass 3, so prepare to be amazed when the watch's large, 1.39-inch AMOLED screen lights up. The high resolution of 454 x 454 pixels and 326 ppi gives you incredibly sharp and colorful images. The maximum brightness level ensures that all information remains legible, even in full sunlight. There is also an Always-On function built in, so you can use the Mi Watch as a regular watch as well. Moreover, you can find different Watch backgrounds in the Mi Wear application, so you can always choose the personal background that suits you!
The Mi Watch Global features an excellent 420mAh battery, which allows the watch to last as long as 16 days with normal use. With the economy mode, you can even use the watch for 22 days before you need to charge it. Even with the GPS always on, the life of the Mi Watch is a whopping 50 hours. 
Health tracking
Besides the fact that the watch looks great, the Xiaomi Mi Watch also has everything you need to keep track of your health. For example, the smartwatch features the highly accurate BioTracker PPG 2 optical bio-tracking sensor, developed and patented by Huami Technology. With this updated sensor, the Mi Watch takes accurate heart rate measurements 24 hours a day, 7 days a week. It records your heart rate at any time of day, both during periods of excitement and periods of rest. The watch will alert you if it detects an excessive value. In this way, you reduce the risk of cardiovascular disease and improve your training. The Xiaomi Mi Watch also measures the percentage of oxygen saturation in the bloodstream. You can measure this at the time when you don't feel well, for example during prolonged intensive work.
In addition to these measurements, the Xiaomi Mi Watch also provides sleep measurements. It interprets the characteristics of your sleep in each phase (light, deep, REM and awake), indicating the duration of each phase to analyze the quality of your sleep. It even gives you tips to improve your sleep habits so you can sleep better.
Sport Mode
In addition to receiving Whatsapps, incoming phone calls and other notifications, the Xiaomi Mi Watch allows you to always measure the right sport, thanks to its 117 different sport modes. Choose the mode and accurately track all your daily activities. Measure the steps you take, the distances you walk or, for example, the calories you burn. The powerful Firstbeat algorithm monitors and analyzes more than 30 key data points to make your workouts more efficient.
The Mi Watch features a very unique quadruple positioning system, consisting of GPS, GLONASS, Galileo and BDS. This allows you to track your routes very accurately and the watch shows the exact miles traveled. You can also use the watch under water, it is water resistant with a resistance level of 5 ATM. So you can use your watch to shower, swim and exercise in the rain.
Fantastic design
With a sleek rounded body and 3D glass
Up to 16 days on a single charge
With a large 1.39-inch AMOLED screen
Filled with new features!


Order the Xiaomi Mi Watch online immediately. Ordered on weekdays before 20:00 = delivery the next working day
Specifications
| | |
| --- | --- |
| Compatible with: | Android and iOS |
| Pedometer: | Yes |
| Heart Rate Sensor: | Yes |
| GPS: | Yes |
| Display: | 1.39" AMOLED, 454x454p Resolution and 326 ppi |
| Weight: | 32 Grams |
| Battery Capacity: | 420mAh (16 days typical use) |
| Waterproof: | Yes, up to 50 meter (5 ATM) |
| App: | Xiaomi Wear Lite |
| European version : | Yes |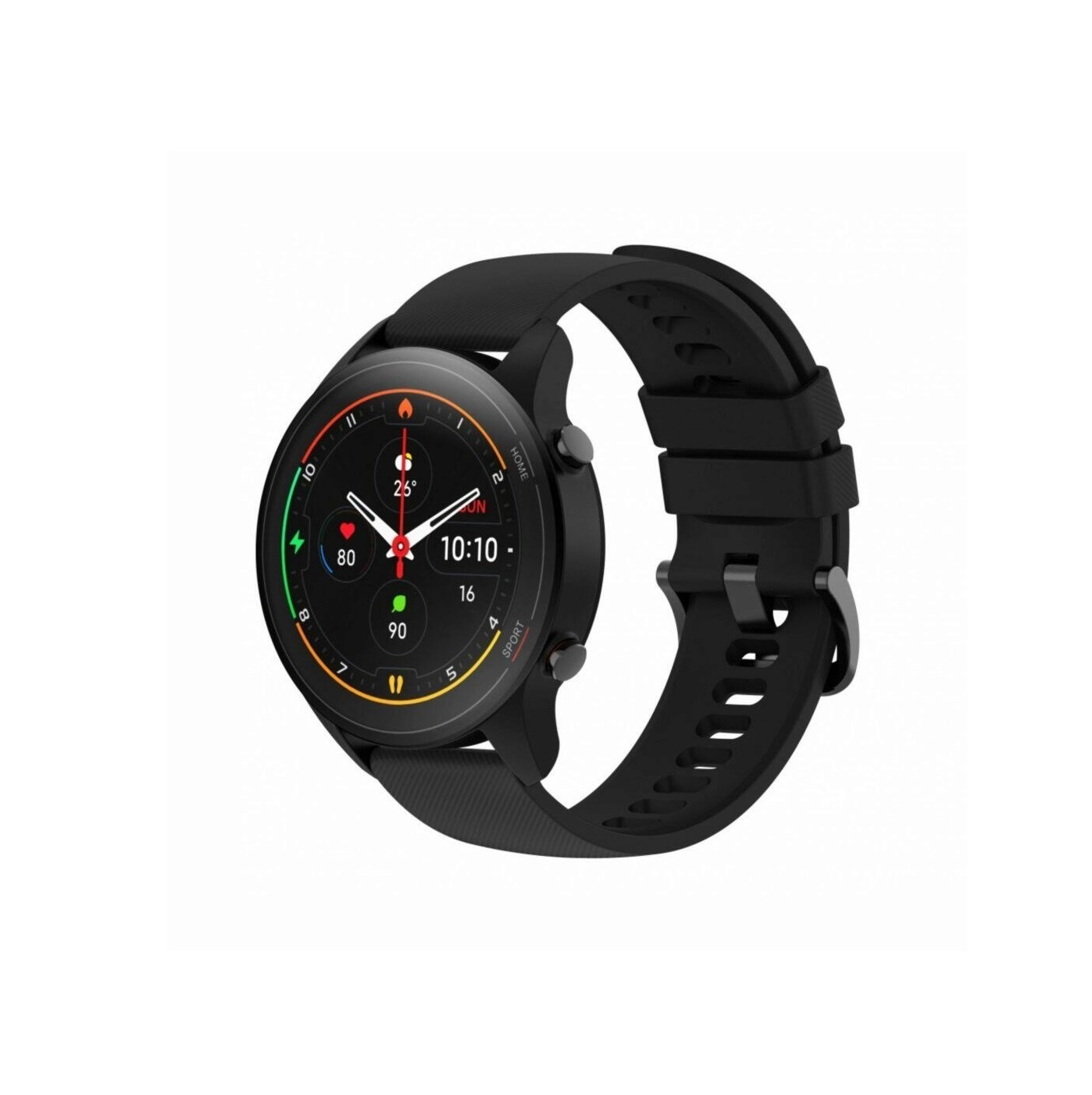 Ik heb sinds een maand een horloge Xiaomi Mi Watch Global Version. deze is in een nette verpakking geleverd en direct gebruiksklaar.
In normale toestand doe ik wel 15 dagen op een lading ( het scherm is standaard uit, middels beweging of knoppen komt het scherm tot leven). ook tijdens sporten houdt het horloge de gegevens goed bij, via o.a.. gps. Het horloge communiceert met mijn iPhone 12. Appjes, telefoontjes, etc. worden netjes weergegeven op mijn horloge
er is keuze uit een boel soorten wijzerplaat en de band is prettig om om te hebben.
Al met al een mooi product voor een goede prijs
Top horloge! Past goed om m'n dunne pols heen, voelt niet te zwaar. Als ik het scherm uit laat staan kan het horloge 20 dagen zonder opladen. Laat ik het scherm aanspringen bij polsbeweging, moet ik 'm iedere 10 dagen opladen. Dus echt top batterij.
Veel en leuke facewatches, kan van alles meten en bijhouden, een heleboel sport soorten meteen en bijhouden. Voor dit geld is het het zeker waard!
Snelle levering door Xiaomi! Horloge komt in een mooie verpakking en alles maakt een zeer degelijke indruk. Dit horloge is een prima verlengstuk van je telefoon en vind persoonlijk de simplistische vormgeving en de gebruiksvriendelijke interface erg prettig. Het Scherm is kraakhelder en er zitte leuke watchfaces op dit horloge. Tracking werkt erg goed via GPS, maar ook slaaptracking en Hartslaggegevens/trainingsgegevens komen realistisch over. En dat allemaal met een prima accuduur en een snelle laadtijd wanneer hij dan toch echt een keer leeg is.. Zit lekker, licht van gewicht Ideaal! Navy Blue vind ik persoonlijk de mooiste uitvoering. Een nog in te vullen feature door Xiaomi is de ondersteuning van Amazon Alexa in Nederland, hie sta ik om te popelen, wellicht kan Xiaomi products daar iets meer over vertellen in welke update dit beschikbaar zal komen? How, alweer een calorie verbrand tijdens typen van deze review!
David Aroca
13 February 2021
Good product, good price, good quality. fast shipment
D Cornelissen
09 February 2021
Goed horloge wel jammer dat er geen andere bandjes opladers en scherm beveiliging nog te koop is.....
zeer mooie watch helder scherm voelt licht aan de pols wat ik plus vind altijd al erg tevreden geweest van xiaomi merk zeker een aanrader