Xiaomi Mi Band 6 European Version
Werkdag voor 20:00 besteld -> volgende dag in huis
Pick up at 3000+ PostNL pickup points.
Lowest price guarantee
Above 75 euros no shipping costs
2 years warranty
Personalized customer service
Information
Xiaomi Mi Band 6
More efficient training
The Xiaomi Mi Band 6 is an excellent sports watch with a range of practical features. For example, the smartwatch features no less than 30 fitness modes that allow you to monitor your sporting activities. Think walking, running, cycling, but also new sports like boxing and zumba have been added to the list. Training time, calories burned and heart rate are visible in one storage. With the "connected GPS", the fitness tracker also adds location data to the workout, provided you bring your phone! In addition, the smartwatch is waterproof to a depth of at least 50 meters which allows the watch to be used even while swimming, diving and surfing.
The smartwatch also features an accurate heart rate monitor which can track all your activities 24/7. The latest addition is the highly innovative SpO₂ tracker. It calculates your blood oxygen level for many new insights! But also monitoring your sleep rhythm during the night or during short naps is possible with the Xiaomi Mi Smart Band 6. The smartwatch also calculates an insightful PAI score for your overall health, based on gender, age, heart rate and other data. It also features valuable stress monitoring and breathing exercises to ensure your health.
Stylish design
The Xiaomi Mi Smart Band 6 has an elegant look where Xiaomi sticks to the classic shape with innovative long screen with stylish rounded edges. The smartwatch features a colorful and razor-sharp 1.56 inch AMOLED display with 326 ppi why all the details are beautifully highlighted. This screen is up to 50% larger than the screen of its predecessor, the Xiaomi Mi Band 5! With the smartwatch, you can choose from more than 60 different stylish and cheerful displays that you can alternate with. Or upload your own photo on the display of your pet, family or favorite artwork that suits your style. It also features a smooth and comfortable wristband.
On your Xiaomi Mi Band 6 you can easily view your Whatsapp messages, emails or appointments. Also, the Mi Band 6 can vibrate for an incoming phone call, so you never miss a call again! With the Xiaomi Mi Smart Band 6 you benefit from at least 14 days of battery life so that frequent charging is a thing of the past. In addition, the watch lasts even longer in battery-saving mode. The watch is then quick and easy to recharge magnetically without having to remove the wristband. Other interesting features include Music mode, Mute My Phone and Menstrual cycle calendar.
Equipped with 30 sports modes
Monitor your heart rate, SpO₂, PAI score, stress level and more
Featured with 1.56-inch AMOLED display
Choose from more than 60 backgrounds or upload your own photo
No less than 14 days of battery life on a charge


Order the Xiaomi Mi Smart Band 6 online immediately! Ordered on weekdays before 20:00 = delivery the next working day.
Specifications
| | |
| --- | --- |
| Compatible with: | Android and iOS |
| Pedometer: | Yes |
| Heart Rate Sensor: | Yes |
| GPS: | Yes |
| Display: | 1.56" AMOLED, 454x454p Resolution and 326 ppi |
| Weight: | 20 Grams |
| Battery Capacity: | 471mAh (14 days typical use) |
| Waterproof: | Yes, up to 50 meter (5 ATM) |
| App: | Mi Fit App |
| European version : | Yes |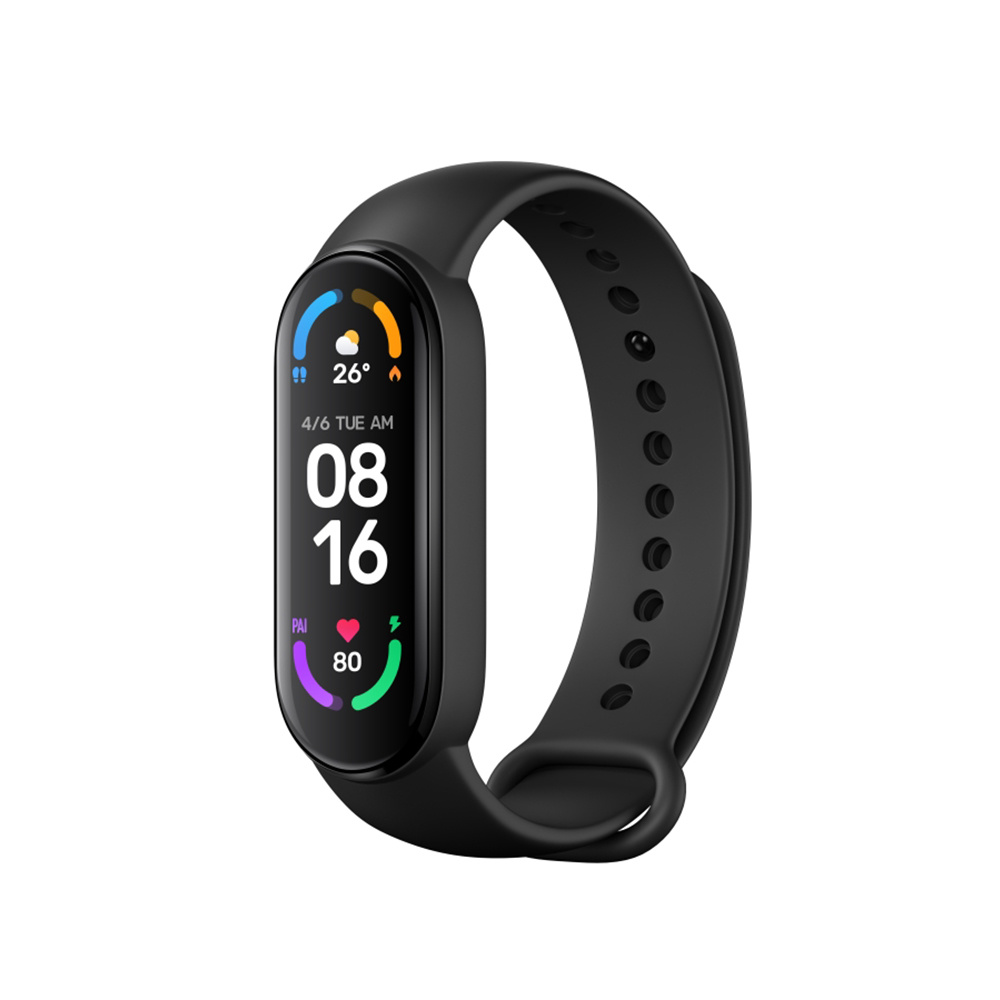 Pieter D
05 November 2021
Mi 6 band is duidelijke verbetering ten opzicht van de Mi 5 band. Alleen de officiële Mi fit app en de Notify & fitnesss app werken nog niet goed samen. Voorbeeld: volgens de Mi fit app slaap ik 6 uur en volgens de Notify app 3 uur.
Erwin Baetens
29 October 2021
Heb al de 4 de 5 en nu de 6 gekocht en deze is veruit de beste op gebied van leesbaarheid , een ding is spijtig dat is de vibratie intensiteit deze is te zwak naar mijn mening ,deze zou ook regelbaar moeten zijn zoals het vibratie patroon . Daarom 4 sterren
De smartwatch 6 is een tophorloge. Snel opgeladen en gaat qua batterij heel lang mee. Daarnaast ja is er een super snelle levering door Xiaomiproducts
Cassandra
27 October 2021
Ik heb een aantal smartbands geprobeerd die allemaal last hadden met verbinden dus onbruikbaar voor mij. Met deze band al direct verbinding, mooie weergave, leuk uiterlijk en ook nog een leuke prijs. Was ook heel snel geleverd. Ben erg tevreden.
Mijn Mi band 4 hier ook eerder gekocht. Toen die niet meer wilde verbinden, zocht ik naar de nieuwste versie nl de Mi band 6. Bij deze winkel was die opnieuw het voordeligst. Hij werd zeer vlot en netjes verpakt geleverd. Ook is er ruime keus in accessoires die ook redelijk geprijsd zijn (die vergat ik helaas direct mee te bestellen). Ben heel tevreden.
Mi band 6 besteld.
Super ding voor een ongelofelijke prijs.
Snelle levering.

Top!
Prettige band, duidelijk in gebruik.
Partner vindt m ook goed en gaat m aanschaffen
Mi6 aangeschaft, mooi helder beeld en veel mogelijkheden (na gebruik Mi4) die weer ontdekt kunnen worden. Blij mee
Tweede band 6 reeds besteld! Zeer tevreden!!
Uitstekende activity tracker voor een wel heel klein prijsje. Je krijgt heel veel informatie en inzichten met deze tracker. De aanpassingsmogelijkheden van het display (de getoonde informatie en het uiterlijk) zijn enorm groot. Als je geen behoefte hebt aan de extra zaken die een gewone smartwatch biedt, is dit een absolute aanrader. Koop 'm via deze site want ik heb 'm nergens goedkoper gezien dan hier. Daarbij is de service van deze mensen echt uitmuntend.
Upgrade van miband 4 naar miband 6. Weer nieuwe leuke functies.
Goed product voor weinig geld
Chris Mertens
23 July 2021
Snel geleverd, uitstekende prijs kwaliteit verhouding.
Excellent service
Prima apparaatje, snel opgeladen en functioneel. Makkelijk te dragen en veel inzicht !
Makkelijk te bestellen. Goede informatie bij de producten en goede prijzen. De levering is zeer snel en ook heel netjes gedaan.
De smartband is na een makkelijke bestelling via internet heel snel bezorgd. De verpakking was in orde. Het apparaat werkt goed en is een leuke handige gadget om zelf de gezondheid van mijn lichaam te checken.
I was very happy to discover the Xiaomi brand some time ago, and it does give you a very good quality at adequate price.
Produit livré rapidement, bien emballé. Pas le meilleur prix, mais disponible immédiatement.
Guido Verstraete
20 July 2021
Tevreden zowel wat betreft product als service
Ik ben onder de indruk van producten van Xiaomi en kwam daardoor bij deze webshop terecht. Bedrijf/magazijn ziet er top uit. Je kunt je bestelling ook ophalen (voor mij vlakbij) en producten die ze op voorraad hebben, kun je vrijwel meteen ophalen. Ideaal.
ALEX Van de kleut
20 July 2021
Zeer snel en netjes bezorgd , het product voldoet aan de verwachtingen. Kortom super tevrede
Toen ik ontdekte dat er alweer een nieuwe MiiBand was, wilde ik die natuurlijk direct bestellen. Normaal deed ik dat altijd via AliXpress, met de nodige wachttijd tot gevolg. Nu kon ik de MiiBand gewoon via een Nederlandse webshop bestellen en had ik het de volgende dag al binnen. Top!
De band 6 is een geweldig mooi sporthorloge met heel veel functies en dat ook op voor een super prijs!!
Vind het een mooi horloge maar vind het vervelend om het elke keer aan en uit te zetten.
Als ik in de auto zit en heb het lopen nog aanstaan gaat het km door tellen.
Snelle levering van een zeer goede smartband, zeer tevreden , weet voor de volgende keer mijn adres wel weer.
Tweede bestelling, goede producten voor een fijne prijs. Snel geleverd.
Was geëindigd bij de mi band 3, gewoon omdat die het na jaren nog perfect deed. Werd 24/7 gebruikt.
Mezelf toch maar eens getrakteerd op de nieuwste versie de mi 6.
Wat een gaaf apparaatje is dit. Ik verwacht hiervan weer net zoveel plezier te hebben als van z'n voorganger.
Ben al jaren fan van Xioumi en hoop het nog lang te blijven.
Erg blij met de Mi band 6. Het is mijn eerste activity tracker ooit en als (bijna) digibeet vond ik het instellen wel een beetje moeilijk. Sommige dingen stel je in de app in, andere dingen stel je op de band zelf in. Gebruiksaanwijzing is erg sumier. Maar mede dankzij Youtube filmpjes ben ik er toch uitgekomen en hij werkt perfect
Remon van vliet
29 April 2021
De beste tot nu toe ik kom dan zelf af van de mi band 5 alles is gwn beter
Eindelijk een smartwatch die ook bij nachtdienst de slaap registreerd.
Vandaag binnengekregen. Het verbinden met de iPhone ging snel en probleemloos en werkt prima met alle notificaties.Mooi en duidelijk scherm en geheel naar wens in te stellen. Prijs kwaliteit verhouding uitstekend.
Richard Orie
19 April 2021
Besteld als upgrade op mijn Mi Band 5. Met als grootste verbetering het scherm, nog groter en dus veel beter afleesbaar. Eindelijk worden nu ook emoticons weergegeven als je een berichtje krijgt. Batterij gaat zeker 10 dagen mee en de homeknop is verwijderd. Zeker de upgrade waard!